A long lasting partnership in Indonesia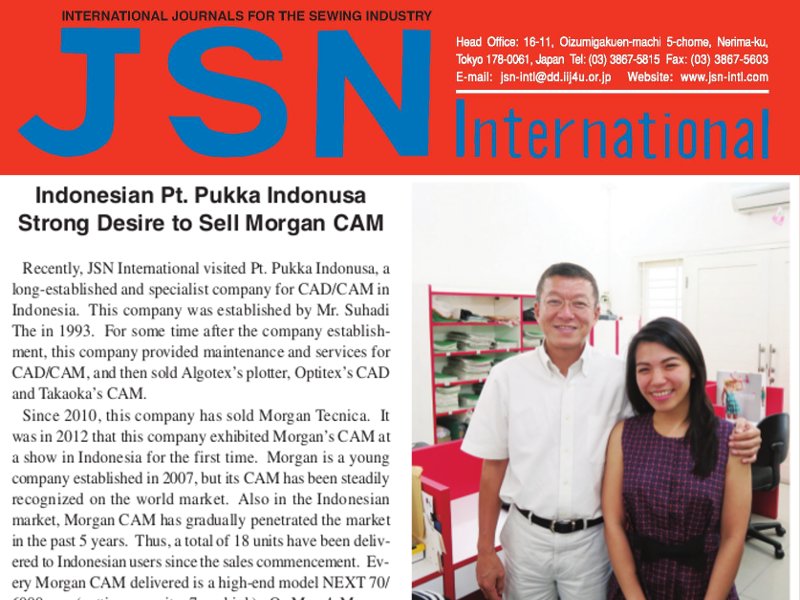 From J. S. N. International magazine, June 2017
Recently, JSN International visited Pt. Pukka Indonusa, a long-established and specialist company for CAD/CAM in Indonesia. This company was established by Mr. Suhadi The in 1993. For some time after the company establishment, this company provided maintenance and services for CAD/CAM, and then sold Algotex's plotter, Optitex's CAD and Takaoka's CAM.
Since 2010, this company has sold Morgan Tecnica. It was in 2012 that this company exhibited Morgan's CAM at a show in Indonesia for the first time. Morgan is a young company established in 2007, but its CAM has been steadily recognized on the world market. Also in the Indonesian market, Morgan CAM has gradually penetrated the market in the past 5 years. Thus, a total of 18 units have been delivered
to Indonesian users since the sales commencement. Every Morgan CAM delivered is a high-end model NEXT 70/6000 rpm (cutting capacity: 7 cm high). On May 4, Morgan released new 2 models (multi-ply cutting machine NEXT 270 and single ply cutting machine PLY 1). Pt. Pukka Indonusa is also showing a strong desire to sell Morgan CAMs in the Indonesian market.
Ms. Claudia Tikando in charge of marketing support talked as follows. "Pt. Pukka Indonusa offers total solutions for each user's CAD/CAM process and consultation on the process from fabric loading to product finishing. And, we give our top priority to the presentation of the highest-quality cutting to the users while trying to maximize machine's productivity.
This is our company's advantage. Presently Indonesia is under a hard competition with Vietnam and Bangladesh in the sewing for export. To win the competition, Indonesia tends to select the manufacture of high valueadded items. Besides, a manufacturing and selling method MtoM (Made-to-Measure), which will give rise to demand for single ply cutters, has come to be established. On the other hand, the potential of domestic demand in Indonesia is very large. It is sure that this domestic demand will lead
to a new apparel demand. The most effective means for the aforementioned markets are none other than technological innovations."